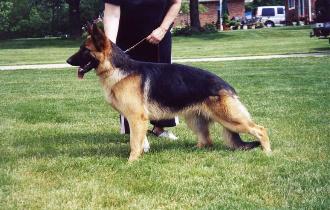 SONJA VOM LACHENERWEG CD RE TC CGC-TDI OFA "SIERRA" – Retired
Sierra is a medium sized, tall female with a very pretty and expressive face. Her plush red and black coat complete this very feminine package. She is a German Import coming from excellent German Show lines. We were very excited to have the opportunity to import a dog directly from Germany. A world traveler, at such a young age, Sierra was full of spunk from the start. With super temperament and a tremendous heart, this female will do anything that is asked of her, a very loyal and loving companion. She passes these wonderful qualities on to her offspring, as she is a very doting and attentive mother. Fostering and raising puppies from different litters as her own, she watches over them, as they play, and teaches them as they grow. Giving us all of her heart and soul, Sierra is very attached to us, adaptable and accepting of any situation, her devotion is unwavering. She is happiest at my side.
Some of her accomplishments include her Canine Good Citizen (CGC) and Therapy Dog International (TDI) certification. Earning first place ribbons for her Companion Dog title (CD). completing her Rally Obedience titles (RE) and being temperament certified by the German Shepherd Dog Club of America. Sierra is also OFA hip and elbow certified.
Pedigree for Sonja vom Lachenerweg German Shepherd
Click the image below to enlarge, or click here to view a printable PDF of the Pedigree.