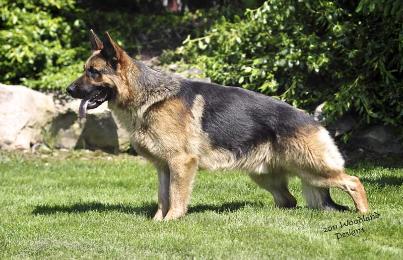 Peters' Elite Sampson Camigaem CGC "SAMPSON"
Owned by Gloria Doering
Sam is handsome, strong, agile and poised. He is the picture of the ideal German Shepherd. His red and black coat is plush and thick, that helps emphasize his impressive stature. Despite his incredible presence, Sam is gentle and loving. He is a favored visitor at school where he enjoys hanging out and listening to kids read. He is calm & patient with all ages but even more so with the pre-school students, they can't believe he will follow their every lead.
At home on CAMIGAEM Farm, Sam works hard. He assists in helping move our cattle from pasture to pasture every day. He is loyal and never leaves us alone in the pasture, and knows his duty is to keep a watchful eye on the bull. Each morning Sam dutifully waits at the back door to accompany us to the barn to feed the cattle. His ever protective and watchful eye has prevented early morning meetings with possums', skunks and other unwelcome visitors in the barn.
Some of Sam's accomplishments include earning his CGC at 6 months and earning 'Top Score' (Grand Champion) in obedience at the Medina County Fair in 2010 and 'Second Top Score' (Reserve Grand Champion) in obedience in 2011.
His sire, CH VA1 Liedo vom Kucksland, imported from Germany by Haus Juris Kennels, was the 2009 USA Seiger, 6 times VA, 2 times Regional Champion & 2005 WDA Sieger.
His dam, "Lexie" was raised at Peters' Elite Shepherds and also holds an outstanding pedigree from top German Kennels (read more about Lexie on her Peters' Elite Shepherds web page).
Sam is available for stud services…brucellosis and vaginal culture required. Call Gloria at 1-216-509-8258