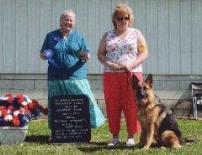 Lacey has retired and is living with Terri, Craig and buddy Otis!
PETERS' ELITE LACEY v KUCKUCKSLAND CGC, CD, PT, OFA "LACEY"
A wonderful representative of the breed, Lacey is not only structurally very correct, but she is also a lovely combination of brains and beauty. She is a medium-sized thick boned female with a very plush, rich red and black coat.
Her sire, CH VA1 Liedo vom Kuckucksland, imported from Germany by Haus Juris Kennels, was the 2009 USA Sieger, 6 times VA, 2 times Regional Champion and 2005 WDA Sieger. A very impressive dog!
Her dam, "Lexie", was raised here at Peters' Elite Shepherds and has an equally impressive pedigree coming from top German Kennels ( read more about Lexie on her web page).
Like her mother Lexie, she is a quick study, eager to please and ready to try anything. She passed her CGC at 6 months old, acquired her CD title at 17 months old and excelled at herding, earning a PT. Super sweet, she has not a mean bone in her body, she loves everyone.
Lacey has been OFA certified.
Pedigree for Peters' Elite Lacey v Kuckucksland German Shepherd
Click the image below to enlarge, or click here to view a printable PDF of the Pedigree.