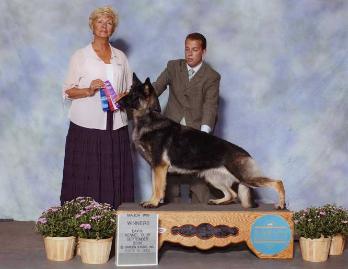 CH. LAUREL'S POISE 'N IVY V JADA OFA CGC RN CD "IVY" – Retired and having fun
Ivy is our first champion. With her came our first introduction to the conformation ring. We were fortunate to have been entrusted with Ivy's "show career" by her breeders, Susanne Wylie and Jane Cooper. Never in my wildest dreams did I think I would ever own a "show dog."
We started off with obedience. Ivy breezed through her obedience classes and went on to acquire her Canine Good Citizen title before she was even a year old. We also began taking agility classes and again Ivy excelled, loving to work with me as a team! However, since Ivy was ready to begin her show career, we took time out from agility to show her in conformation. Ivy loved the show ring and soon became an AKC Champion, joining her two litter brothers who are also champions.
American bred with many champions in her pedigree, Ivy is a gorgeous darkly pigmented, large female with a beautiful plush coat. This female takes your breath away as she floats around the ring. She is truly beauty in motion. Always happy to please and deeply devoted to me, she was easily trained and willingly performs to command. She has earned a Rally Obedience title (RN) and her Companion Dog title (CD) making her a Dual Title Champion, Ivy is OFA hip certified.
Ivy coming to us was a blessing, we have had so much fun showing, traveling and meeting new people, but most of all, sharing this with great friends.
Pedigree for Laurel's Poise N' Ivy V Jada German Shepherd
Click the image below to enlarge, or click here to view a printable PDF of the Pedigree.