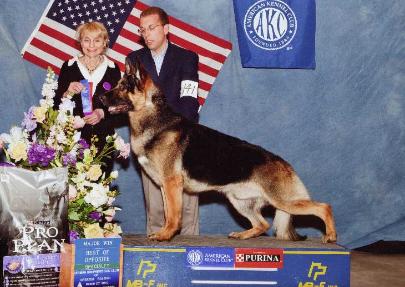 CH. PETER'S ELITE NAME YOUR POISE N OFA "GOMER"
From the beginning we knew Gomer was special. As a puppy, he showed great potential for the "show ring" with a strong, handsome headpiece and beautiful shoulder, we kept our fingers crossed as he grew. He was a very easy going, happy puppy.
Super sweet and very affectionate, he greets everyone with a wagging tail and a big kiss! He loves to play ball with us, race around the pond with his mother Ivy and Auntie Sierra, but most of all, he adores playing with the puppies.
We are looking forward to showing him this year, as his show career started off with a bang. First time in the "show ring" he won Reserve Winners Dog and Best Puppy from the 6-9 puppy class under Judge Bart Bartley. His handler, Lenny Brown did a tremendous job showing off Gomer's magnificent movement at the German Shepherd Dog Club of Canada's National where German Shepherds from Canada and The United States compete. Gomer placed second, competing in the 9-12 month male puppy class. At the German Shepherd Dog Club of America's National, Gomer placed third in his class. He is a sight to behold as her moves around the ring.
As of 4/22/2010, Gomer has finished his championship in one weekend, with 4 majors under specialty judges Ardin Bartly, Edie Trokie and Nancy Nellis. He is our new champion!
Gomer is OFA hip and elbow certified and does not carry the coat factor. He is available for stud services, BC and VC required.
---
Gomer got his HT title today…October 11th, 2015…thanks to Amanda Dash's loving touch. Gomer loves herding with her. And a big THANK YOU to Kelly Malone, Gomer's instructor. After a year off from training, she encouraged me to pursue his title. Gomer is now a Dual Titled Champion!
Pedigree for Peters' Elite Name Your Poise 'N German Shepherd
Click the image below to enlarge, or click here to view a printable PDF of the Pedigree.