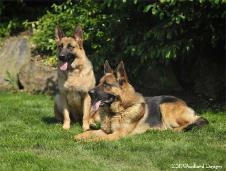 We are a small kennel located in Medina, Ohio where our dogs have 4 acres of property to run and play on, as well as a one acre pond to swim in. Swimming is great exercise! They not only get to cool off on those hot summer days, but we are constantly entertained by Lexie's fishing abilities…catch and release!
Being a small kennel, having only 5 dogs allows me more time to spend with each dog, on obedience training, socialization and grooming. The time I spend bathing, cleaning ears and trimming nails is my time to pamper each of them. Training time and getting ready for our performance trials is quality time spent building that special bond that I have with each dogs individual personality. Our dogs have been active in schutzhund, confirmation, agility, herding, and therapy work. All doing what they like best. I am very proud of their accomplishments.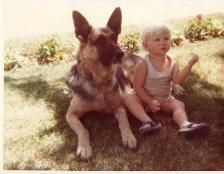 Growing up with dogs, both of us having various breeds from Beagle to Samoyeds and Huskies, Richard's German Shepherd, Harley was the perfect fit. They were inseparable, She went everywhere with him. As the family grew, she kept a watchful eye over the children, as if they were her own. This is when we knew we would never be without the companionship of a German Shepherd.
All our dogs, even the ones that are now gone, are a big part of our family. Jessie and Buck were with us from the start. From purchasing our property, building our barns, home and kennel, even now, they are still with us in spirit. Jessie was a combination of East German Working lines (Sagus Vom Busecker-Schloss great granddaughter) and American show lines (CH. Bramblewood's Custom-Made granddaughter). She was all mine! She knew exactly what I was thinking and what I expected of her.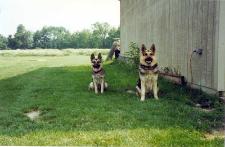 Always having a watchful eye on me, she was the ultimate loyal and devoted companion. Buck was Richard's buddy, a nice mix of German and American show lines, going back to Tibor Vonder Murrenhutte and Ch. Sukee's Mannix. He was a beautiful dog, very gentle, affectionate and he loved everyone. Our only regret was not keeping a puppy from these two. Time slipped away from us, Buck passed and Jessie never produced puppies for us after she lost her mate.
This was our beginning. We learned so much from them, and continue to learn with our present family of dogs, looking forward to our future. Our constant companions, loyal, loving and devoted to us, these are the qualities we try to reproduce in our puppies. Raised in a family atmosphere, our puppies get to interact daily with our other dogs as well as family members, neighbors and visitors. A very important part of socialization, we encourage everyone to visit. The dogs love it!
Click on this Teaching Point: Schutzhund Lexicon for the Novice
Click on this Teaching Point: German Shepherd Standard of Excellence